COMMERCIAL PROPERTY / OFFICE BUILDINGS
We Combine Security and Technology to Win for Commercial Property Managers
Many individuals visit commercial properties on a daily basis, and it's important that these customers, employees, and others, as well as valuable company data, are kept safe. At SMR, our goal is to create a security climate that fits the atmosphere of the building while protecting all parties involved.
Whether you need us to blend in like a concierge service or stand out in a security blazer, we'll adapt to your needs. At SMR, we train our highly qualified team in this range of skills and always ensure a strong fit for properties we secure both personally and professionally.
We always discuss and listen to your company's specific security needs before getting started. This includes a review of the site and an expertly tailored plan to ensure the highest level of protection. We'll consider various options to put the security you need in place.
The following are some ways we've offered our services for companies, and just a start of the ways we can serve you.
Security and Concierge Services
Total Asset Protection
Alarm Response
Parking Lot Patrols
Fire Watch Monitoring
REPORTS THAT REDUCE LIABILITY
Sloppy handwritten reports, or reports written in a simple word
processor are a thing of the past. Say hello to color-coded, GPS
and time-stamped reports that reduce your risk and liability.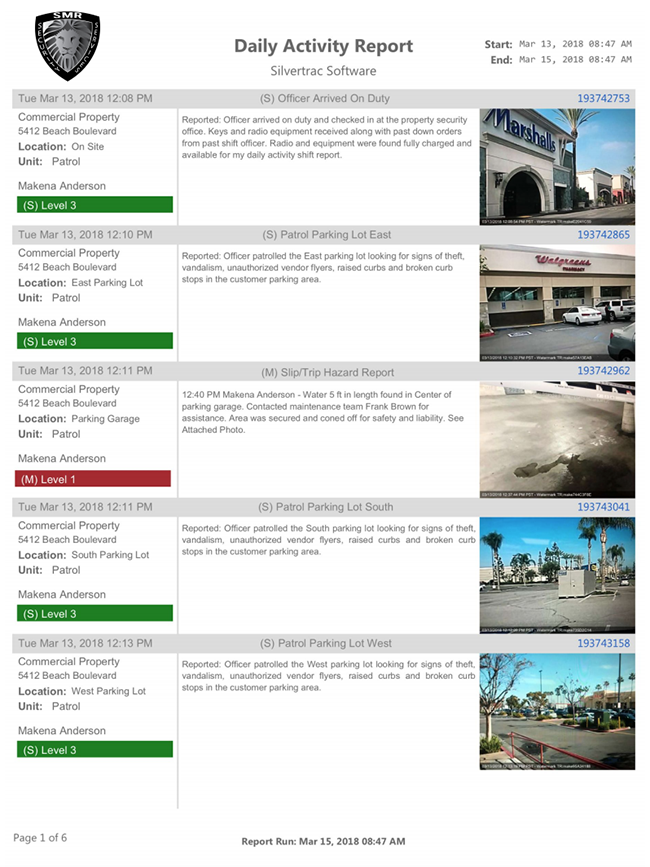 Check out our full Sample Report Packet